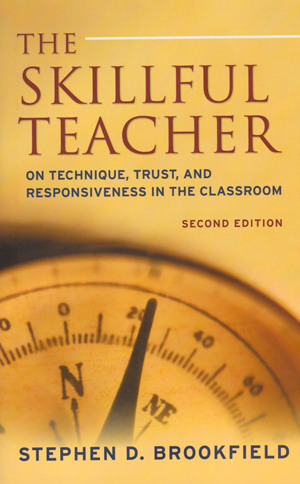 Stephen D. Brookfield. The Skillful Teacher. On Technique, Trust, and Responsiveness in the Classroom. 2nd. Ed. San Francisco: Jossey-Bass, 2006.
If I were asked to recommend one book that I think every faculty member of the college should read, it would be Brookfield's classic in its second edition, an engagingly written introduction to teaching, which combines a gentle introduction to pedagogical theory with numerous practical suggestions for every teacher—from the newly minted Ph.D. to the seasoned veteran—that will improve performance in the classroom.
From "core assumptions of skillful teaching" and a chapter on how to survive emotionally the onslaughts of our chosen profession, to sections on how to lecture creatively, increase students' participation in discussion, or respond to resistance, it's all here.
To my mind, though, the best chapter is the fourth, where Brookfield addresses "what students value in teachers," asserting that they learn best when credibility and authenticity are held in a state of "congenial tension" (57).
The attributes that establish credibility include expertise, experience (in one's field as well as in the classroom), conviction (our sense of the importance that students "get" what we are teaching), and rationale, which Brookfield defines as the ability to "talk out loud the reasons for . . . classroom decisions, course design, and evaluative criteria" (63).
Sections of Brookfield's  discussion of authenticity may raise some eyebrows.  He claims we must manifest congruence between what we say we will do and what we do; full disclosure ("regularly making public the criteria, expectations, agendas and assumptions that guide [one's] practice"); responsiveness (convincing students that what you are teaching actually will help them); and personhood (the more controversial part): one's ability to allow students to know that we are indeed human beings with personal lives outside the classroom (67-71).
Brookfield's reflections on this final attribute and the problem of balancing self-disclosure and professional boundaries is typical of the book as a whole—nuanced, clear, and brief.
John Lanci
Professor, Religious Studies